Volodymyr Zelensky's party "Servant of the People" presented a plan to battle corruption in Ukraine, as the party's official Facebook page reports.
"One of our program's points is destroying the systematic corruption. It is more than just words, as we have a concrete plan to achieve it. We're already forming the support for our plan: making it impossible to forge documents in an electronic database or to make an online transaction using the date that has already passed, etc." the message states.
In order to battle corruption, the party suggests implementing the following measures: creating a national system of electronic management, radical cleansing and reloading of the prosecutor's office, ensuring the independence of anti-corruption bodies, and transferring most of the government services online.
The party also promises to introduce a mandatory confiscation of property of corrupt officials, create a system of witness protection and introduce a system of monetary compensation for citizens who detect corruption.
"Any investigation regarding business will be based on the presumption of innocence. We will adopt modern legislation on temporary investigative commissions of the Verkhovna Rada, which will, in turn, lead to the prosecution of corrupt and incompetent officials," the party assured.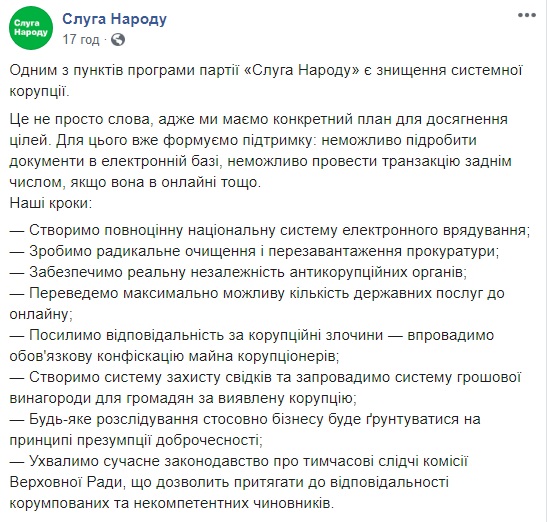 As "Apostrophe" reported earlier, Zelensky shared the things he has in common with the main character of "Servant of the People", Vasyl Holoborodko.