The scandal with the impeachment of US President Donald Trump has created a favorable for Kyiv consensus between Democrats and Republicans. If Ukraine utilizes the situation for its benefit, the country can expect to be a major Non-NATO ally like Israel and South Korea, as Russian political scientist and publicist Andrei Piontkovsky expressed in his interview with Apostrophe.
- What do you think of the Senate vote on Donald Trump's removal from office?
- The vote was quite expected. There was no doubt that Trump would be acquitted. His removal would take two-thirds of all senators' votes. No matter what the Republican Party has said, internal discipline wouldn't have allowed them to vote for Trump's removal. At the very least, Senator Mitt Romney voted against Trump. Politically, it's very important. It's a big news story, a rather powerful move on his part. This decision shows that Trump was not only accused by the Democrats, which slightly improves the voting picture.
- Earlier, we have discussed that four people voting for the removal from office would be a success. It would divide the votes 50/50.
- Four people had doubts. These are Romney, two women - Susan Collins and Lisa Murkowski - and Lamar Alexander. Three of them voted for Trump's acquittal and made statements explaining their position. They said the accusations were proven. However, two of them stated that the violation - while being serious - wasn't impeachable. Senator Collins said that Trump's punishment should be determined by American people during the election. On the last day of the trial, many of the senators spoke out explaining their reasoning. The Republicans said the violation was proven. But, roughly speaking, not every crime should be punished with the death penalty.
- Did you watch Donald Trump's White House press conference on the Senate vote? He invited the Republicans, thanked everyone who helped him.
- Yes, but I couldn't watch it till the end - everything was so trivial, he kept repeating the same things. My wife watched it and said he insulted Romney and Speaker Nancy Pelosi at the end. That's also what he did on Twitter this morning. Pelosi wasn't an example of political correctness either. She ripped Trump's speech and nearly threw it to him in the face. Trump started it when he didn't shake her hand. All this characterizes the extent to which the political struggle in the U.S. has escalated.
- Is there a positive side to the impeachment process for Ukraine?
- The scandal around Ukraine is what now unites Republicans and Democrats, and it benefits Ukraine. Democrats accuse Trump of betraying his heroic ally, which defends the US and the whole West from Russian aggression. And the Republicans answer that he didn't betray the heroic ally. On the contrary, Trump gave Ukraine the kind of help that Obama would never give - supplying Javelins, etc.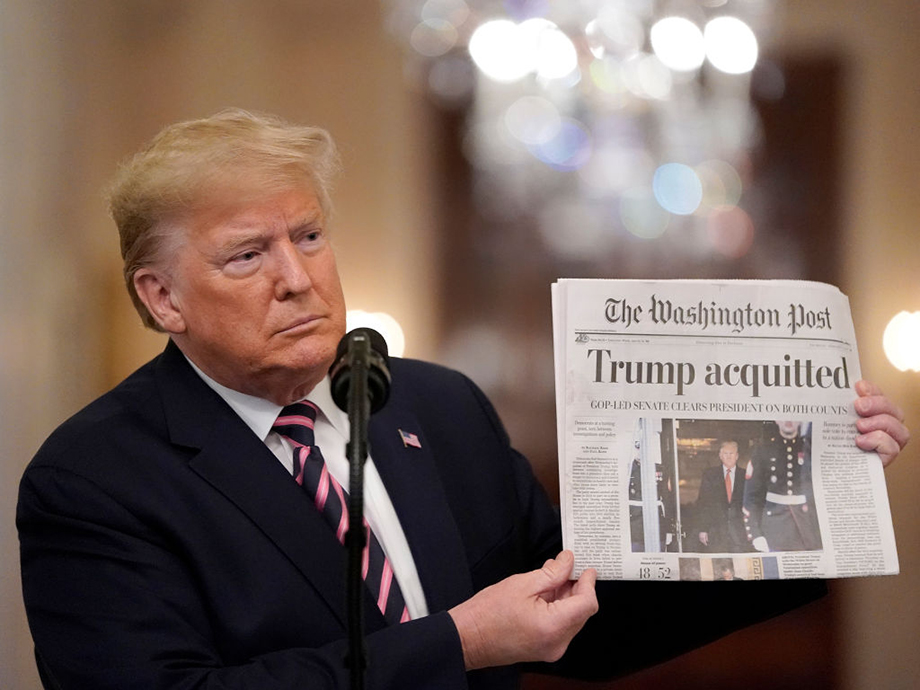 Photo: Getty Images
In other words, Republicans and Democrats are competing in being great friends to Ukraine. However, this situation will not remain this profitable for a long time. It is a unique moment for Ukraine to get the status of the
Major Non-NATO Ally
, which only requires the will of Ukrainian political leadership.
For Ukraine, the most important result of the impeachment process is the US political establishment consensus regarding the bilateral support of Ukraine in light of Russian aggression. This is happening against the backdrop of Europe's obvious betrayal. The unity of American officials gives the Ukrainian leadership a huge chance, but I am terribly afraid that they will miss it.
- Trump mentioned the delay of military aid to Ukraine at the same press conference. He phrased it this way: why doesn't Britain pay Ukraine? Why doesn't Germany pay? "Why America always sucks?"
- This is his eternal song - all his allies are bad. Pompeo has recently visited Ukraine. He plays a huge role in American politics now. Trump comes and goes, but the American "deep state" remains. Pompeo plays a very important role: he mixes Trump's pranks and tricks - with Trump being basically an illiterate person in international relations, always throwing himself at his allies and, up until recently, strangely in love with Putin.
Pompeo has a common line of support for Ukraine as a frontline in the fight against Russian aggression. This policy was also articulated during his tour to the imperial foothills of Russia. And he especially distinguished himself not even in Ukraine, but in Belarus. I can imagine what a shock the Kremlin still has from his meeting with Lukashenko.
- Pompeo also made quite an appearance in Ukraine. If you know, we have a scandal here because of his statements regarding Crimea.
- First of all, the scandal is mostly inflated by the Russian press.
And secondly, we all know that Crimea is gone for a long time - while Putin is in power or the Russian Empire still exists. Is Kyiv or Washington going to return the peninsula by force? Pompeo didn't say anything new. Officially, he said something completely politically correct - that America would never agree to the annexation of Crimea, and sanctions would never be lifted until the peninsula is returned to Ukraine.
Of course, I understand why the panic is inflating now.
- Why?
- Because this is the main message of Russian propaganda. This is what Russian propaganda broadcasts 24 hours a day. In my opinion, Pompeo's remarks were flawless. It is much worse when Victor Medvedchuk or Andriy Yermak - two traitors - say that Crimea is Ukraine and they think about how they will return it. They say it in order to deceive the Ukrainian public opinion.
- Now there is a very big escalation in Donbas, many people died in January. Why is this happening? They've signed the Normandy agreements, agreeing on the withdrawal of troops.
- Escalation is happening on the Russian side. It's the pressure on Kyiv. After all, Zelensky promised peace and 73% really voted for peace. There is no peace, the Ukrainians continue to get killed. The Kremlin is pushing Zelensky to agree to the Russian definition of peace. And this, as they say in Moscow, is Ukraine's joining the Donetsk and Luhansk regions. They want the Ukrainian troops to leave the line of separation, opening the way for the two army corps to Ukraine. After all, in the so-called "ORDLO Constitution", they have already outlined their first goal - to expand the territory of the ORDLO to the borders of Donetsk and Lugansk regions.

Escalation in the Donbas is a blackmail action. Russia is a terrorist state. They will kill Ukrainian soldiers until Zelensky finally agrees to their terms. But Zelensky and his "peace party" are afraid to say how Russia sees the world.
- Returning to Ukrainian-American relations. They say that it is better for Zelensky not to meet with Trump before the November election, as it will be considered an attempt to influence the American presidential race. What's your opinion?
- For Ukraine, everything turned out pretty well. Republicans, Democrats, and the entire military and political establishment treat Ukraine very well, supporting it with great enthusiasm. Trump, in turn, is influenced by Pompeo, the U.S. Secretary of Defense and his entourage. I think that they will not let Trump go to Moscow on May 9. That's why there are no special threats for Zelensky in Washington. He can make a triumphant trip to Washington and attend Trump's signing of a document giving Ukraine the status of Major Non-NATO Ally. This will dramatically strengthen Kyiv's foreign policy position. And there is no other reason for Zelensky to go to the US.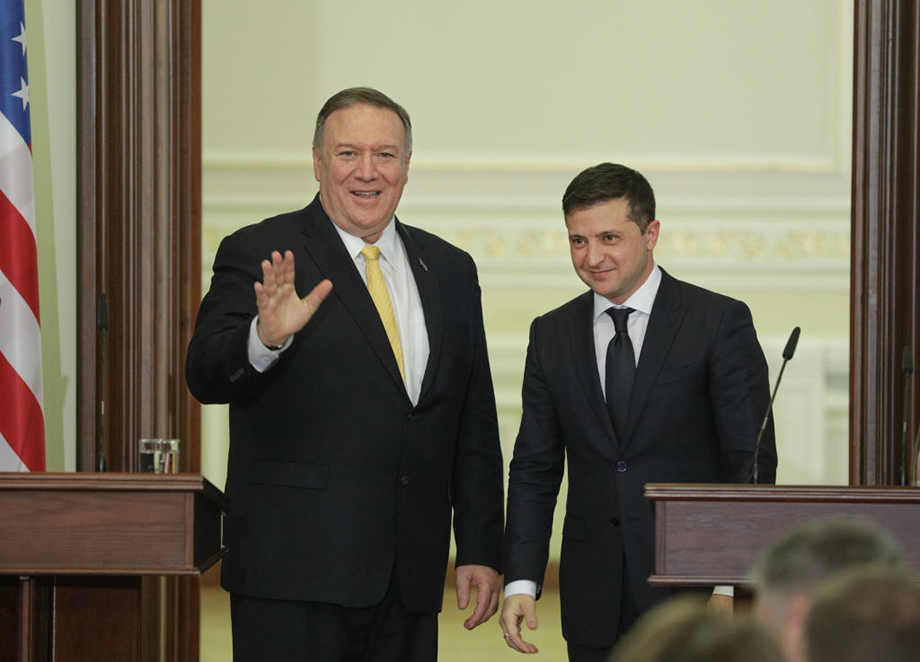 Photo: Getty Images
- Ukraine, by the way, is getting closer to NATO. In the Ministry of Defense, we have called on the Alliance to include Ukraine in the program of expanded opportunities - it is like MAP in NATO but without political canvas.
- Well, this is NATO stuff. And I'm talking about bilateral status. It bypasses all the problems of joining the Alliance. The bearers of that status are South Korea, Japan, Israel, Australia and New Zealand. You don't have to negotiate with Macron or Merkel to do that. They can block any status upgrade.